This post may contain affiliate links. Read the disclosure for more info.
Need some more ideas on how you can make the perfect roasted sweet potatoes? Then these recipes with roasted sweet potatoes are exactly what you're looking for. They feature 25 of the best recipes with roasted sweet potatoes you'll ever come across. Each one of them is deliciously packed with taste and flavor for your absolute delight.
If there's any food that can bring pure delight to a plate, it's roasted sweet potatoes.
Sweet potatoes are similar to regular potatoes as they also can be boiled fried or baked, but they are such a good source of fiber and vitamins. By baking your sweet potatoes you're able to retain more of their nutrients which would otherwise be lost if you boiled them in water.
You can bake and enjoy them with or without the skin. Eating sweet potato skin is safe and actually of nutritional benefit because of the additional nutrients in the skin. It's simply a matter of preference. Some people prefer to leave the skin on.
You may choose to roast your sweet potatoes whole or cut them up into cubes, circles or wedges. It's entirely up to you.
How you prepare your sweet potatoes depends on how you wish to cook them. For example, if you want to cook them with their skin on then it's important to clean them thoroughly beforehand.
There are other delicious and exciting ways to try these recipes with roasted sweet potatoes, without necessarily making them the main star of the show. You can also enjoy them as a side dish or as a main dish.
The recipes featured in this post take between 20 minutes to 1hr to cook using a temperature range between 375F to 425F.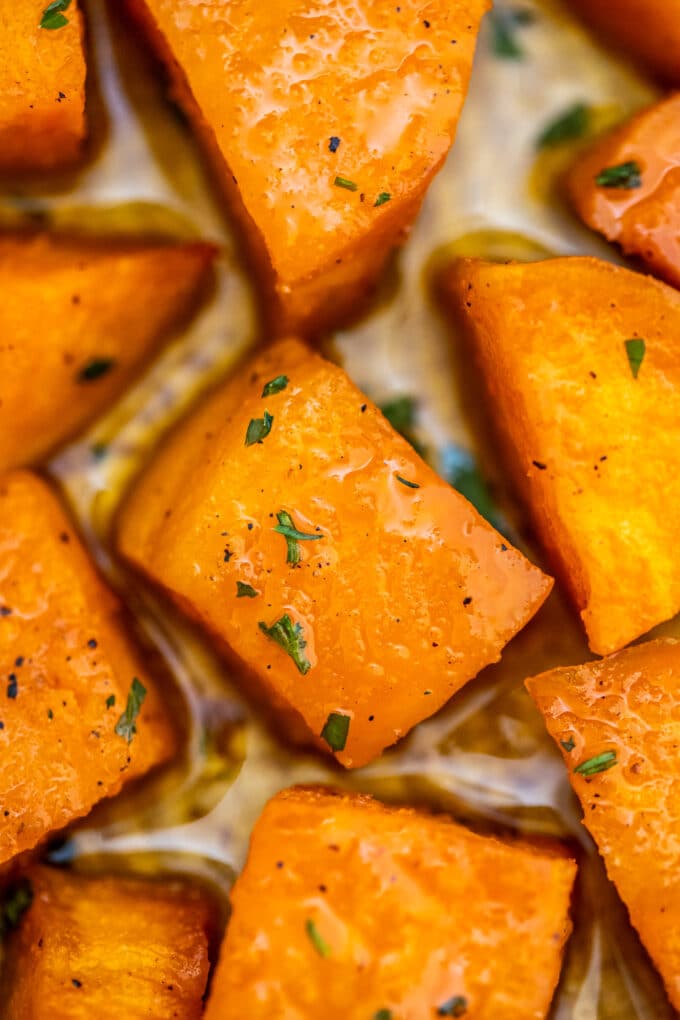 Visit each source/link for full recipe, nutritional information, serving sizes, etc. While you're there, please support that blog in any way you can. It takes a lot of work on the part of recipe creators to develop and make these amazing recipes freely available for us to enjoy. Thanks for your support.
1. Slow Roasted Sweet Potatoes with Spicy Garlic Chickpeas and Blue Cheese Sauce by Jessica from How Sweet Eats
2. Quick and Easy Oven Roasted Sweet Potatoes by Abeer from One Pot Recipes
3. Whole30 Twice Baked Chipotle Chicken Sweet Potatoes with Cashew Lime Crema by Kelsey from Little Bits of Real Food
4. Kyoto Roasted Sweet Potatoes with Miso, Ginger and Scallions by Sylvia from Feasting at Home
5. Brown Sugar Roasted Sweet Potatoes by Lisa from Wine and Glue
6. Roasted Sweet Potatoes with Chile Glaze by Jamie from Dishing out Health
7. Perfectly Roasted Broccoli & Sweet Potatoes by Kelly from Eat Yourself Skinny
8. Perfectly Roasted Sweet Potato Fries by Ana from The Awesome Green
9. Roasted Parmesan Herb Sweet Potatoes by Gayle from Pumpkin 'n Spice
10. Roasted Sweet Potatoes with Pecans and Cranberries by Melissa from Modern Honey
11. Roasted Sweet Potatoes and Bacon by Natasha from Natasha's Kitchen
12. Roasted Sweet Potatoes by Catalina from Sweet and Savory Meals
13. Roasted Sweet Potatoes with Feta Cheese by Mira from Cooking LSL
14. Maple Pecan Roasted Sweet Potato Slices by Nora from Savory Nothings
15. Roasted Sweet Potato Kale Salad with Avocado and Jammy Egg by Julia from The Roasted Root
16. Maple Oven Roasted Sweet Potatoes by Kathy from Lemon Blossoms
17. Lentil Walnut and Roasted Sweet Potato Tacos by Lexi from Crowded Kitchen
18. Roasted Sweet Potato and Farro Salad with Garlicky Chickpeas by Eva from The Curious Chickpea
19. Chili Roasted Sweet Potatoes by Laney from Life is but a Dish
20. Roasted Sweet Potatoes with Maple Butter by Sara from Dinner at the Zoo
21. Cinnamon Roasted Sweet Potatoes and Apples by Laura from Joy Food Sunshine
22. Roasted Sweet Potato and Apple Casserole by Averie from Averie Cooks
23. Honey Butter Roasted Sweet Potatoes by Kevin from Kevin is Cooking
24. Garlic Parmesan Roasted Sweet Potatoes by Christina from Eatwell 101
25. Crispy Roasted Sweet Potatoes by Thomas from Gastroplant
The last recipe from Gastroplant is more or less a masterclass in how to make crispy roasted sweet potatoes. It incorporates different types of sweet potatoes into one amazing palate-pleasing sensation of a treat. It's definitely worth checking out.
Liked these recipes with roasted sweet potatoes? Here are some more tasty and delicious sweet potato recipes just for you.