This post may contain affiliate links. Read the disclosure for more info.
These vegan chickpea curry recipes will put a smile on your face and a warmth in your heart (and tummy of course).
Whatever you fancy or enjoy, there's something to inspire you.
Follow each individual link below to create one of these tasty and delicious vegan recipes, or to find inspiration and make your own variation of the dish.
#1 Vegan Chickpea Curry with Indian spices, coconut milk and tomatoes by London from Evolving Table
#2 Easy and Healthy Vegan Chickpea Curry Meal Prep by Meghan from Fox and Briar
#3 Vegan Chickpea Tikka Masala by Rhian from Rhian's Recipes
#4 Jamaican black-eyed pea curry by Eva from The Curious Chickpea
#5 Easy Coconut Chickpea Curry by Shannon from Yup, it's Vegan
#6 15-Minute Vegan Chickpea Curry by Bianca from Elephantastic Vegan
#7 Healing Turmeric Chickpea Curry by Nora from Savory Nothings
#8 Slow Cooker Chickpea Curry with Sweet Potatoes and Red Peppers by Sabrina from Simply Recipes
#9 Easy Vegan Chickpea Curry by Shane from Shane and Simple
#10 Vegan Chickpea & Potato Curry by Evi from EV's Eats
#11 Vegan Chickpea Curry from I Heart Vegetables
#12 Chickpea and Kale Thai Coconut Curry by Averie from Averie Cooks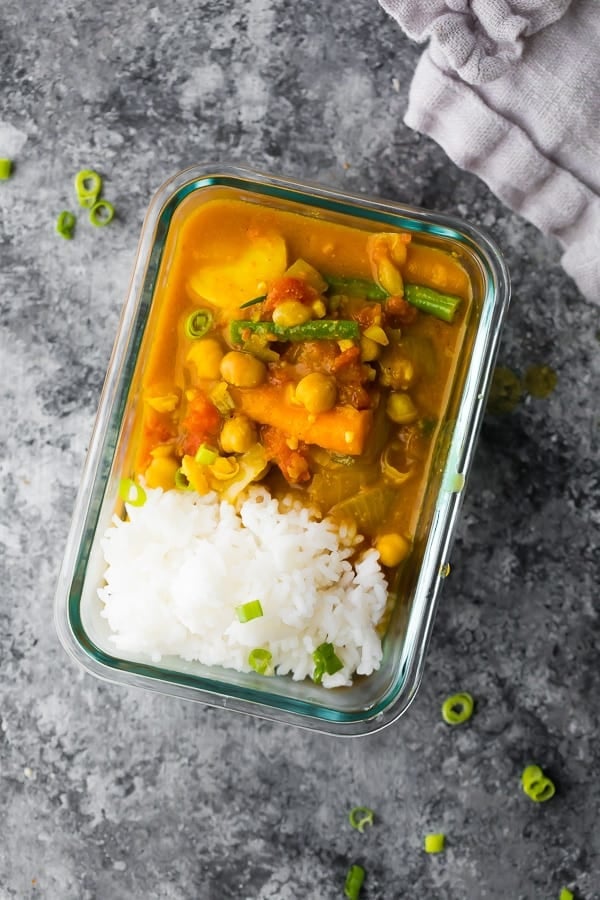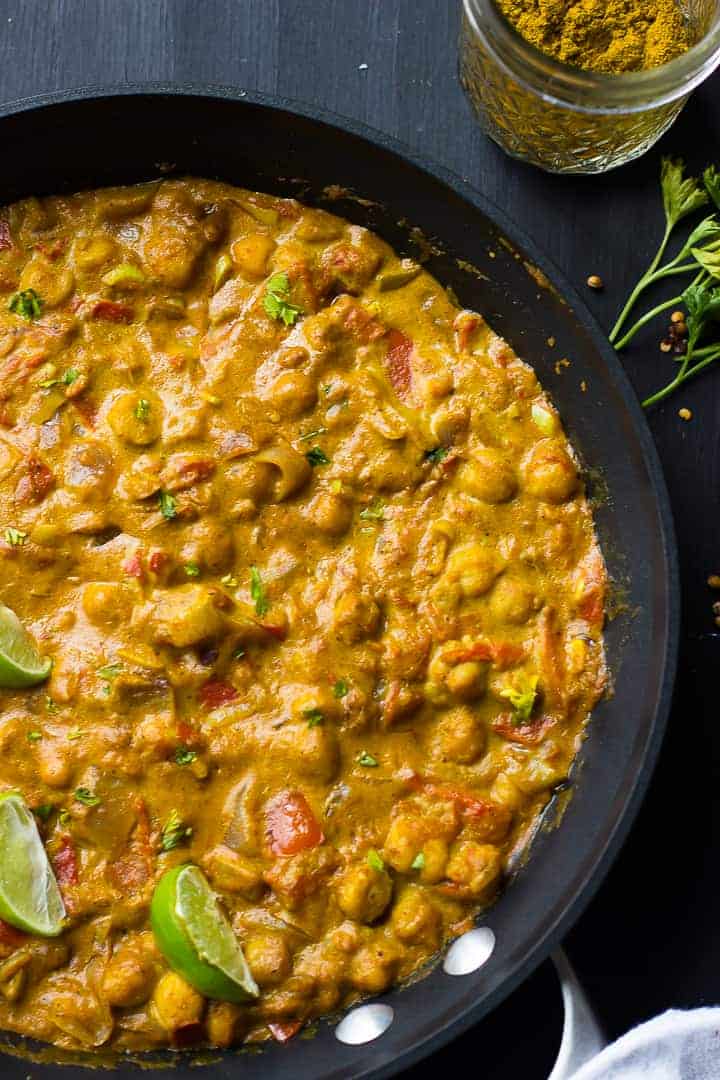 #13 Broccoli Chickpea Curry by Rachel from Bakerita
#14 Cauliflower, Sweet Potato, and Chickpea Curry by Alexandra from Occasionally Eggs
#15 Nourishing Yellow Chickpea Pumpkin Curry by Monique from Ambitious Kitchen
#16 Aubergine and Chickpea Curry by Diana Alshakhanbeh from Little Sunny Kitchen
#17 Easy Indian Vegan Chickpea Curry Recipe with Sweet Potatoes from Pook's Pantry
#18 Thai Mango Chickpea Curry by Sam from It Doesn't Taste Like Chicken
#19 Indian Coconut Chickpea Curry by Alia from Everyday Easy Eats
#20 Instant Pot Chickpea Curry (Freezer; Vegan) by Denise from Sweet Peas and Saffron
#21 Coconut Chickpea Curry by Jessica from Jessica in the Kitchen
#22 10-Minute Coconut Yogurt & Chickpea Curry (Gluten-Free, Vegan) by Rebecca from Strength and Sunshine
#23 Vegan Chickpea Curry With Potatoes Recipe by Melissa Chapman from The Staten Island Family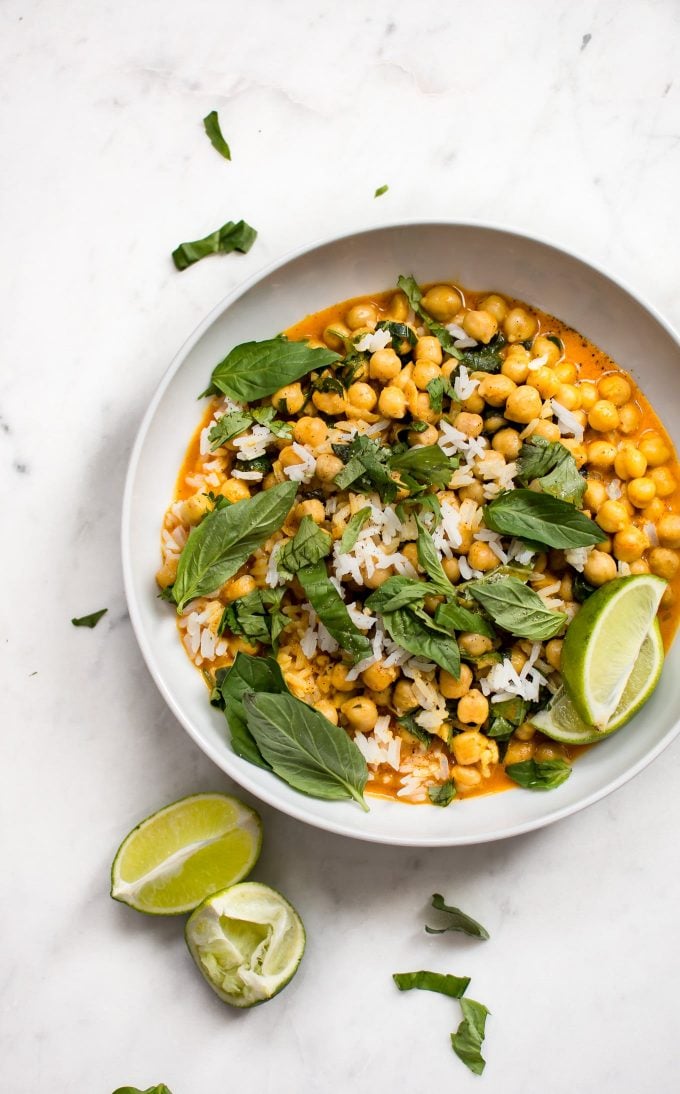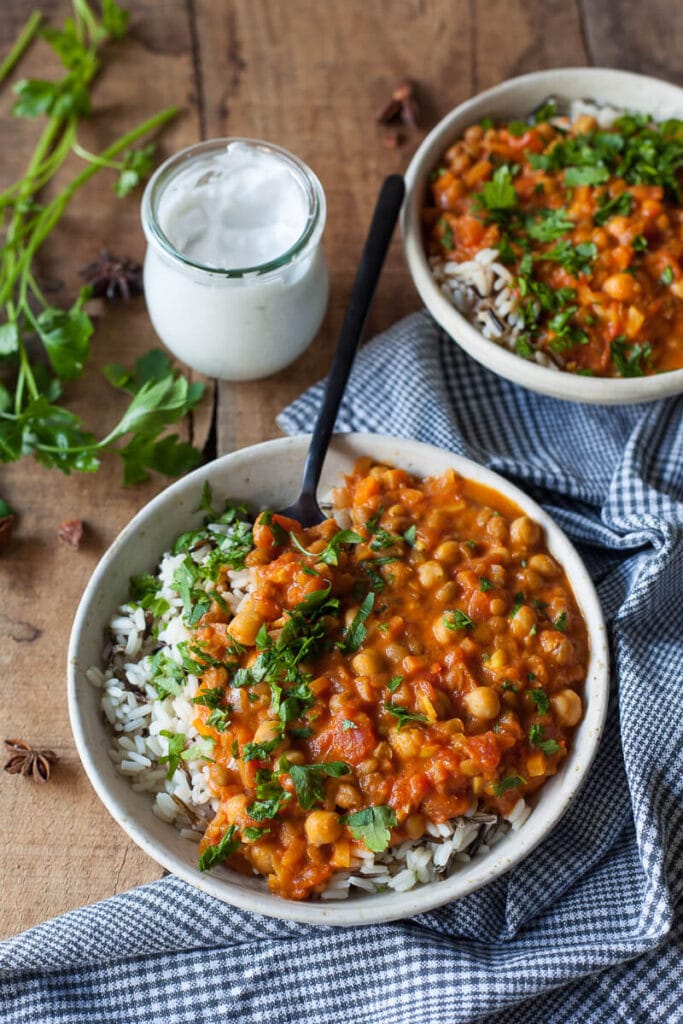 #24 One-Pot Vegan Chickpea and Potato Curry from Karissa's Vegan Kitchen
#25 Quick and Easy Chickpea Coconut Curry by Natasha from Salt and Lavender
#26 Quick Indian Spinach and Chickpea Curry from Umami Girl
#27 One Pot Sweet Potato and Chickpea Curry by Neil from Neil's Healthy Meals
#28 Quick and Easy Vegan Chickpea Curry from Sage and Celery
#29 Easy Coconut Chickpea Curry with Butternut Squash and Spinach by Marina Delio from Yummy Mummy Kitchen
#30 Instant Pot Sweet Potato Chickpea curry from The Flavours of Kitchen
#31 Lime Coconut Curry Chickpea Soup with Quinoa by Amy from Wholesomelicious
#32 Black Chana Masala (Chickpea Curry) by Kristen from The Endless Meal
#33 Easy Vegan Coconut Chickpea Curry by Britt from The Banana Diaries
#34 Vegan Spinach Chickpea Coconut Curry by Tina from Love is in my Tummy
#35 Chickpea Lentil Coconut Curry by Kristina from Vibrant Plate
#36 Green Curry Chickpea and Vegetable Pasta by Danae from Recipe Runner
#37 Roasted Pumpkin Chickpea Curry by Rosie from The Hungry Herbivores
#38 Chickpea Fennel Curry Salad by Steph from Grateful Grazer
#39 Cabbage Coconut Curry with Chickpeas (Vegan) from Veggies Save The Day